8/19/2009
Filed under:
Early in my career when I was told that I was being moved from the position of plant manager to that of a customer service rep, I viewed the transfer as a demotion and I was devastated. On the other hand, the owners viewed this as a promotion and an opportunity for me to broaden my business skills. They considered customer service to be one of the most important positions in the company and, in fact, it was one that was held by Mike - one of the owners and founders.
Mike was legendary in the trade. He was exceptionally well organized and on top of every conceivable detail of every open order. When it came to commitments, his word was gold. He knew how to communicate the urgency of a customer requirement and was a master at motivating others in the company to recognize and respond. Mike was like a seasoned sea captain in the middle of a storm. If he ever lost his composure, he never showed it. I remember one customer telling me, "Although my world was coming to an end due to some crisis or impossible deadline, Mike always seemed to pull the rabbit out of the hat." This observation was typical of others I had heard. Lucky for me, Mike became my teacher and mentor.
Here's what he taught me:
Customers are the reason for the company's existence and my paycheck.
The company's reputation in the trade is everything and is a direct reflection of me.
Commitments and promises are to be met no matter the size of the job or the customer.
Be calm, cool and collected.
Maintain a sense of humor.
Know your customers.
Listen before responding.
Be on top of details. Know order balances, inventories, schedules, raw material availability - anything that might have an impact on delivery. While this was before the era of computers, Mike had his own routines and ways of keeping fastidious notes and to-do lists that kept him on top of his game. For example, rather than delegate inventory and production recording transactions to clerks, Mike recorded them himself in his own log at the beginning of each day. This seemingly time-consuming task enabled him to answer most customer questions instantaneously and customers were always amazed. While this may not be practical in today's business environments, it certainly points to the need for preparation before picking up a phone.
Communicate customer requirements to others on your team in a detailed and timely manner.
Get your team involved in the process and secure their commitment. Mike believed in a collaborative approach and never overplayed his position as an owner.
Timely replies to a customer issue or request are essential.
Be honest. If you made a mistake, admit to it and fix it. Never blame others.
If for some reason a deadline can't be met, advise the customer well in advance and provide options.
Keep your account salesperson informed.
Pass along customer accolades to the rest of your team and acknowledge individual effort and accomplishment.
As it turned out, the owners were right. My two years as a customer service rep did broaden my business skills and the lessons I learned became an important part of who I became as a leader.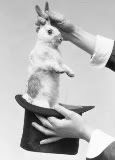 DOUG CONTRERAS
I welcome your invite to connect!
---
Comments Off
10/29/2007
Filed under:
As youngsters, my brother and I would play at the bottom of the stairway in front of our family's oak grandfather clock. The top of the clock, which was flat and seemed to be about 20 feet high, was the place where our mother would "hide" our confiscated toys when we got into trouble. Four square legs that raised the bottom of the case about three inches off the floor supported the clock. This area beneath the case was the "garage" for our toy cars and trucks.
Unlike other grandfather clocks, our clock was simple in shape, with a very square look and a clear leaded glass cabinet at its base. As a kid I never gave any thought to its looks, but I distinctly recall the soothing, deliberate tick and its very simple and friendly gong.
When I was in my early teens, my parents sold their home and placed the clock in storage where it remained for several years until it found its way to my aunt's dining room. By that time it no longer worked and had fallen into a state of disrepair. With my aunt long deceased and my uncle recently placed in long term nursing care, I prepared their home for sale.
I asked a person who tinkered with old clocks to take a look at it. He told me repair might be possible, but never be practical. Three of the glass panels had serious damage, the pendulum was broken, most of the chain was missing, the weights needed repair, but worst of all the verge & spring assembly were missing. With that bit of news, I placed a series of ads in an attempt to sell the clock.
With no takers, my wife suggested we bring it home and attempt to get a replacement movement. Although I viewed this as another chore that I did not need or have time for, my son and I moved the clock and placed it in a corner of a sitting room adjacent to our family room. After removing the leaded glass panels and getting them repaired, I cleaned and polished the case. For the first time, the clock looked handsome. Perhaps it was the contrast of the orangey finish to the pale green walls and the similarity of the style to some of our existing oak furniture - or maybe it was the memories of my cars and trucks in the "garage".
I began to look on the Internet for new movements that could be mounted in the case. After hours of searching, I located a company in North Dakota called Dakota Clock. To determine the fit and suitability, I took pictures and measurements and noted that I needed a replacement for a 100-year-old Waterbury movement. Within minutes of sending my e-mail, I received a call from Ken Muggli, the owner, asking whether I would consider repairing the Waterbury. In spite of my description of the condition, Ken was confident that it could be repaired and suggested I remove it and send it to him for a closer look.
Upon receipt Ken called to confirm that he could repair the movement and told me that this particular Waterbury was somewhat rare and, combined with the Mission-style case, the clock was a collector's item. We agreed on a price that included the ladder chain, a new pendulum, a new spring, a new verge assembly and a re-build of the movement to restore it to original condition.
About two weeks into the project, Ken called to advise that in spite of exhaustive research, the original 40-link ladder chain was no longer available. Although he had begun work on the movement, he offered three options, convert the drive from ladder chain to cable, apply my deposit to a new replacement movement or refund my deposit completely. Disappointed, I asked him for a weekend to think about what I wanted to do. After some research on Saturday and Sunday, I found that a 43-link chain was still being made. On Monday, I called Ken and asked him if he could build the parts to convert the movement to support the 43-link chain. Without hesitation, he said yes and promised delivery in 4 to 6 weeks.
Two weeks later Ken called to tell me that the movement was running and keeping perfect time. He was as excited and delighted as I was! A week later, I remounted the movement back in the case and the clock is running again after a fifty-year vacation.
So you're saying, "Nice clock story, but what does this have to do with business and performance?" Here's what I see:
Contrary to popular belief, American craftsmanship does exist!

Delivering a service or manufacturing a good product takes pride. Ken is a guy who takes responsibility and ownership for what he sells. Right from the beginning his "can do" attitude caught my attention.

Ken could have easily sold me a new movement, but his knowledge saved me from destroying a valuable antique and heirloom.

Though I did not cite every instance in my story, Ken knew the importance of communication. Throughout the process he kept me in the loop.

Ken is a man of commitment. He promised delivery in 4 weeks and did better than his promise.
If you ever require the services of an accomplished horologist who is a good businessman, visit my friend Ken on the web at: http://dakotaclockworks.com/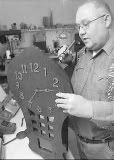 DOUG CONTRERAS
I welcome your invite to connect!
---
2/14/2007
Filed under:
Back then - a salesman could make an unscheduled visit to a key account and expect to spend time with each of his contacts. Today - the salesperson's voicemail talks to the buyer's voicemail.
Back then - a face-to-face meeting with all of the key players would resolve the issue. Today - issues are resolved by e-mail.
Back then - if you were not making your margin on a product or service you were providing, you sat down with the buyer and made your case for an increase. Today - you are constantly told that your prices are too high and that you are in jeopardy of losing out to the competition.
Back then - suppliers took customers out to lunch and customers held vendor appreciation days. Today - many buyers have never met their suppliers.
Back then - if you provided a quality product and on-time delivery, you were rewarded with additional business. Today - even if you are providing a quality product and on-time delivery at a low profit margin, don't be surprised if you are told that the products you have been faithfully supplying will soon say MADE IN CHINA.
So here are a few survival tips:
Minimize costs and operate efficiently. Constant improvement means that each day's record of accomplishment needs to be broken the following day.
Deliver defect-free products or services on-time.
Confrontational sales policies are the quickest way to lose customers. See the potential issue from the customer's viewpoint before taking a stand. Be flexible!
Avoid surprises by communicating key issues to your customers in writing on a timely basis.
Be aware of customer and market trends and plan your position ahead of the changes.
Know the relative profitability of each product or service you supply and so that you can preemptively adjust your pricing based on your knowledge of the trends.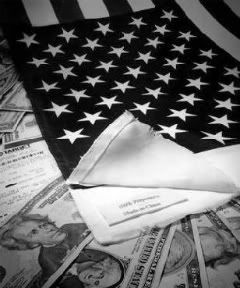 DOUG CONTRERAS
I welcome your invite to connect!
---