10/29/2007
Filed under:
As youngsters, my brother and I would play at the bottom of the stairway in front of our family's oak grandfather clock. The top of the clock, which was flat and seemed to be about 20 feet high, was the place where our mother would "hide" our confiscated toys when we got into trouble. Four square legs that raised the bottom of the case about three inches off the floor supported the clock. This area beneath the case was the "garage" for our toy cars and trucks.
Unlike other grandfather clocks, our clock was simple in shape, with a very square look and a clear leaded glass cabinet at its base. As a kid I never gave any thought to its looks, but I distinctly recall the soothing, deliberate tick and its very simple and friendly gong.
When I was in my early teens, my parents sold their home and placed the clock in storage where it remained for several years until it found its way to my aunt's dining room. By that time it no longer worked and had fallen into a state of disrepair. With my aunt long deceased and my uncle recently placed in long term nursing care, I prepared their home for sale.
I asked a person who tinkered with old clocks to take a look at it. He told me repair might be possible, but never be practical. Three of the glass panels had serious damage, the pendulum was broken, most of the chain was missing, the weights needed repair, but worst of all the verge & spring assembly were missing. With that bit of news, I placed a series of ads in an attempt to sell the clock.
With no takers, my wife suggested we bring it home and attempt to get a replacement movement. Although I viewed this as another chore that I did not need or have time for, my son and I moved the clock and placed it in a corner of a sitting room adjacent to our family room. After removing the leaded glass panels and getting them repaired, I cleaned and polished the case. For the first time, the clock looked handsome. Perhaps it was the contrast of the orangey finish to the pale green walls and the similarity of the style to some of our existing oak furniture - or maybe it was the memories of my cars and trucks in the "garage".
I began to look on the Internet for new movements that could be mounted in the case. After hours of searching, I located a company in North Dakota called Dakota Clock. To determine the fit and suitability, I took pictures and measurements and noted that I needed a replacement for a 100-year-old Waterbury movement. Within minutes of sending my e-mail, I received a call from Ken Muggli, the owner, asking whether I would consider repairing the Waterbury. In spite of my description of the condition, Ken was confident that it could be repaired and suggested I remove it and send it to him for a closer look.
Upon receipt Ken called to confirm that he could repair the movement and told me that this particular Waterbury was somewhat rare and, combined with the Mission-style case, the clock was a collector's item. We agreed on a price that included the ladder chain, a new pendulum, a new spring, a new verge assembly and a re-build of the movement to restore it to original condition.
About two weeks into the project, Ken called to advise that in spite of exhaustive research, the original 40-link ladder chain was no longer available. Although he had begun work on the movement, he offered three options, convert the drive from ladder chain to cable, apply my deposit to a new replacement movement or refund my deposit completely. Disappointed, I asked him for a weekend to think about what I wanted to do. After some research on Saturday and Sunday, I found that a 43-link chain was still being made. On Monday, I called Ken and asked him if he could build the parts to convert the movement to support the 43-link chain. Without hesitation, he said yes and promised delivery in 4 to 6 weeks.
Two weeks later Ken called to tell me that the movement was running and keeping perfect time. He was as excited and delighted as I was! A week later, I remounted the movement back in the case and the clock is running again after a fifty-year vacation.
So you're saying, "Nice clock story, but what does this have to do with business and performance?" Here's what I see:
Contrary to popular belief, American craftsmanship does exist!

Delivering a service or manufacturing a good product takes pride. Ken is a guy who takes responsibility and ownership for what he sells. Right from the beginning his "can do" attitude caught my attention.

Ken could have easily sold me a new movement, but his knowledge saved me from destroying a valuable antique and heirloom.

Though I did not cite every instance in my story, Ken knew the importance of communication. Throughout the process he kept me in the loop.

Ken is a man of commitment. He promised delivery in 4 weeks and did better than his promise.
If you ever require the services of an accomplished horologist who is a good businessman, visit my friend Ken on the web at: http://dakotaclockworks.com/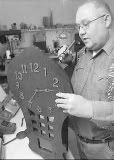 DOUG CONTRERAS
I welcome your invite to connect!
---
10/24/2007
Filed under:
Here are seven steps to consider:
Analyze
Thoroughly examine the job or project and understand the possibilities associated with each action. This is a forensic approach that calls for review, categorization, summary and comparison of data collected.
Set Goals
Goals or standards for completion should be set above average performance levels, yet historical information should show they are doable. Setting a goal beyond what is achievable guarantees failure and demoralizes workers.
Delegate
A boss must learn to let go. It's amazing how leaders lose sight of the big picture and get caught up in minutia. Turning over responsibility to one's subordinates builds strength and depth in the organization. After communicating the objective, give your people space!
Gather & Record Information
It doesn't take much - a simple production report might include: date, shift, supervisor, line #, hours, # workers, product # and amount produced. Record the data in an organized way to facilitate the next step.
Measure
Look at performance to standard making sure you're comparing apples to apples. Display results by responsibility so it is clear where each key person stands. Chart the change. Display results by product #, to see whether the product requirements have any bearing on the results. Chart the change. Continue the comparisons by other fields of data as needed.
Provide Feedback
Get the information back to your people in a format that is neat and easily understood. Meet with your people at regular intervals to insure everyone is on the same page.
Reward Positive Results
Rewards can take many forms - public recognition within the company, a day off, a bonus or maybe a dinner for two.
DOUG CONTRERAS
I welcome your invite to connect!
---