12/10/2007
Filed under:
I returned from Vietnam in 1970 and began my training as a customer service rep for a small package printing firm. Days into the process, I was asked if I would consider managing a start-up plant which had the potential to instantly double the company's size. The original person slated to take on this responsibility declined at the last minute and with no other candidates, I was the only act in town. At the tender age of twenty four, I jumped at the challenge oblivious to the fact that a feat of this magnitude would require the mind and memory of a computer and the dexterity of an octopus. With tons of energy and no support from the parent plant, I took on all the responsibilities - HR, Customer Service, Engineering, Traffic & Warehousing, Maintenance, Quality Assurance, Planning & Scheduling, Purchasing and Shift Supervision. In one year the plant was fully operational, running two shifts with 70 employees and generating a profit.
People laud me on the accomplishment, but experience has helped me realize that I was the hub of the wheel. If anything had happened to me, the effort would have collapsed.
It's surprising how managers consistently place themselves in similar positions. Some think no one else can do what they do, while others seem to be so insecure about their place in the organization that they are reluctant to give up control as if it would be an admission of weakness.
For a business to prosper and grow, managers need to delegate and monitor. I suggest that the process include the following elements:
Establish realistic and doable goals.
Train your people making sure they understand your goals.
Have a contingency plan to allow for a person who cannot do the job.
Provide your people with the tools needed to accomplish the task.
Monitor progress by comparison to objective standards.
Make yourself available for advice and counsel.
Give your people space - don't stand over them!
Acknowledge and reward success.
DOUG CONTRERAS
I welcome your invite to connect!
---
12/3/2007
Filed under:
I'm always amazed to see how smaller companies fill their supervisory positions. Far too often a person migrates into a leadership role because of seniority with little regard for genuine qualifications. Even worse, a candidate is seriously considered because he or she is a warm body or what I like to refer to as "the last man standing." Whenever I am asked what to look for when selecting a supervisor from the ranks, here's the list I offer:
Is the candidate organized?

Can he or she remain cool under fire?

Does the person have the capacity to understand the technicalities of the processes being managed?

Is he or she a team player who can work & communicate equally well with management & subordinates?

Does the candidate have a strong work ethic that is recognized by others?

Does he or she have people-skills?

Can the individual openly admit to a mistake?

Will he or she accept criticism and help from others?

Can the person avoid being "one of the guys?"
A yes to each of these questions will help in your selection, but don't forget to add the training!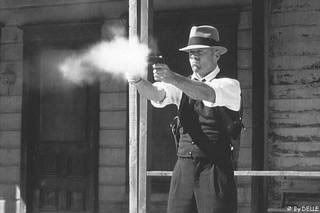 DOUG CONTRERAS
I welcome your invite to connect!
---