2/26/2008
Filed under:
Ever have a boss who issues a special set of rules for the staff and ignores the same for him or herself? I did and I'd like to say it didn't affect the quantity and quality of my work, but it did.
A DO AS I SAY, NOT DO AS I DO mentality is hyprocisy at its finest and one of the quickest ways to demoralize and de-motivate a workforce.
Good managers follow the rules themselves and great managers lead by example!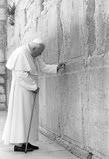 DOUG CONTRERAS
I welcome your invite to connect!
---