12/22/2009
Filed under:
On December 21st, my family and I attended the annual Christmas concert held at our church featuring the Orchestra of St. Peter by the Sea. The orchestra, which is well known in the NJ/NY metro area, consists of 40+ professional musicians, 3 vocalists and is conducted by a Catholic priest - Reverend Alphonse Stephenson. His bio goes like this:
Father Alphonse's very first orchestra was formed in New York's Theater District while he served at St. Malachy's, the Actor's Chapel. His conducting debut was with bass soloist Paul Plishka of the Metropolitan Opera. In 1980, the late Broadway director and choreographer Michael Bennett engaged him as conductor and music director of his smash hit, A Chorus Line.
A student of the late George Schick of the Metropolitan Opera and Dr. Robert Abramson of the Juilliard School, Father Alphonse has been guest conductor of the Fresno Philharmonic, Delaware Valley Philharmonic, Metro Lyric Opera, the Greater Palm Beach Symphony Orchestra and the Key West Pops Orchestra.
He is the founder and conductor of the Festival of the Atlantic in Point Pleasant Beach, New Jersey's largest outdoor music festival. The Festival's popularity has led to Father Alphonse receiving the Monmouth and Ocean Development Council's Silver Gull Award for Tourism Development.
He is a Colonel and the Command Chaplain of the New Jersey Army and Air National Guard, Headquarters, Fort Dix, NJ.
Father Alphonse is the founder of the Cecelia Foundation, a non-profit organization funded solely through private contributions and the sale of his Christmas recordings.  This effort brings the full orchestra to Catholic schools throughout the state and awards professional quality instruments to deserving students.
In keeping with his passion to introduce young people to good music, Fr. Stephenson frequently invites a youngster to "guest conduct" the orchestra while he hides backstage. This year he selected my ten-year-old grandson, Michael, to take the baton for Leroy Anderson's Sleigh Ride. While Michael admitted he was nervous, he finished the piece and took his bows with Fr. Stephenson to resounding cheers and applause. What a great confidence builder for a student drummer!
Guest Conductor Michael Contreras
As a student of leadership I have observed how Fr. Stephenson's knowledge of music, his demand for excellence, his relationship with his talented musicians and the way he interacts with his audiences has produced music that has encouraged me to return for the last 20+ years.
Fr. Stephenson's approach serves as a model for leadership in the business world. A boss can be defined as successful if he or she:
Knows the product line
Demands quality
Provides value
Engages and appreciates the workforce; and
Treats the customers right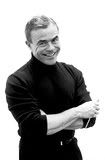 BRAVO FR. ALPHONSE!!!
DOUG CONTRERAS
I welcome your invite to connect!
---
Comments
No comments yet.
Leave a comment
Publication may require admin approval; please come back later to view your comment.
Sorry, the comment form is closed at this time.